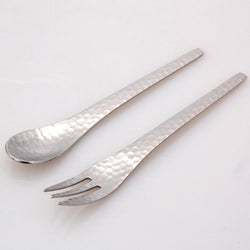 Tsubamesanjo hammered Cutlery Fork / Spoon
A hygienic stainless steel spoon that is rust resistant and durable. It has a matte finish with a hammered finish. Made in Tsubame City, Niigata Prefecture, which is famous for producing stainless steel products.
It is a design that is unlikely to be seen, with details such as the hammered finish and the line of the handle that give off a subtle personality. The matte texture gives it an elegant atmosphere, and it can be used in both Japanese and Western styles.
Fork and spoon sold separately.
size | coffee spoon : 2.4x 12.6cm, cake fork : 1.9x 13cm
material | stainless steel (Tsubamesanjo)
household use Dishwasher | OK
Made in Japan