WINTER winter WINTER | TSUJIMOTO coffee
This product changes the coffee inside the drip bag every year.

This season's WINTERwinterWINTER
100% of "Guatemara La Folie-Farm Bourbon 300" is used.

By making the city roast a little deeper,
it was finished so that you can enjoy flavors such as cacao, almonds, grapes, blackberries,
and marron that are perfect for winter.

The coffee beans prepared as winter coffee for the winter / winter of 2019/20 are the varieties called Bourbon 300 from Guatemala La Folly. It does not blend with coffee beans from other production areas and becomes a single origin (single farm / single variety).
Ingredients: Coffee bean (powder)
Content: 11g x 1 portions
Drip coffee for winter only
I would like you to spend "Nice najikan" through a cup of coffee. We also hope to contribute to a sustainable society by finding and introducing producers who continue to make coffee that is environmentally friendly, flavorful and polite from faraway countries.
Winter-only drip coffee WINTER winter WINTER is a coffee that can be used for Christmas and New Year's events as well as for casual everyday life such as a quiet winter time and kotatsu.
Winter / Winter 2019/20 uses 100% of the Bourbon 300 varieties from Guatemala La Folly Farm.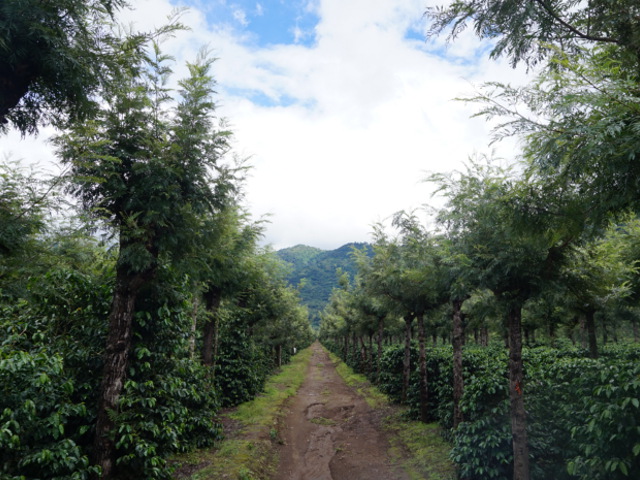 La Folly Farm
There is a folly farm on the outskirts of Antigua.

 

Louis Pedro Celaya, the coffee maker representing Antigua, manages not only his own farm but also the farm management of each farm in the Antigua area and manages about 20 farms.

 

In the same way, La Folly Farm has been commissioned for many years by Louis Pedro on behalf of the absent farmer (Penny Mateu).
Based on the latest agriculture, leguminous shade trees are neatly arranged at regular intervals.

 

Harvested coffee provides excellent coffee that exceeds the brand of "Antigua Coffee" through micro lot management by harvest day.
Comments from CQI certified Q grader Enomoto
One of the three types of coffee selected for the Tsujimoto coffee from the 119 types of samples prepared by Luis Pedro during the February purchase.
Variety Bourbonsit (Bourbon 300) is a mutant of the Bourbon variety that is said to be the original species, meaning the small tree bourbon (dwarf) in Spanish. The tree height is only 1.8m, so it is easy to grow, and the taste is said to be very fine with the delicate sweetness and fragrance typical of Bourbon. Enomoto was able to taste for the first time with this purchase. Folly-Bourbon 300 (# 48) in the farm has a juicy fruit with a pronounced sweetness, and even when the temperature range cools, the balance is not lost until the end.
At Enomoto Kasumi, La Folli Farm's specialty coffee is roasted into a slightly deeper medium roast (city roast) to finish the flavors of cacao, almonds, grapes, blackberries and marrons.
A foli farm selected by Satoshi Enomoto, a single variety of specialty coffee.
From coffee beans purchase to roasting and drip bag filling, we will consistently deliver it to everyone who loves coffee.

 

We hope you can spend your time relaxing alone and spending a wonderful winter with your loved ones.