Specialty Coffee | RWANDA REMERA WASHING STATION | 200g
Peach, fancy. Top of top, sweet scent reminiscent of white magnolia. Refreshing and bright like peach, sweetness like crisp chip chocolate and strawberry syrup, a well-balanced and comfortable finish.
Tsujimoto rating : 88.5 points.
Variety
| Bourbon
materials | Coffee beans
Rwanda, the country of the Thousand Hills, has a lot of greenery and gentle hills that extend beyond the horizon. Coffee is grown actively on the 1500-2000m plateau in Rwanda, the country of this beautiful hill.
Remera CWS (Coffee Washing Station), a mill directly managed by Bufcoffee, which exports Rwanda's specialty coffee, is a CWS located at a high altitude of over 1,900 m, which is one of the few in Rwanda. -Located at 2,200m. Through many years of activities at Bufcoffee, we have a strong relationship of trust with farmers. Farmers have received a variety of training and the maturity of the cherries being collected is high. The soil is well fertile and there is abundant clear water with high transparency. As a result, COE was also awarded in 2008, 2009 and 2014.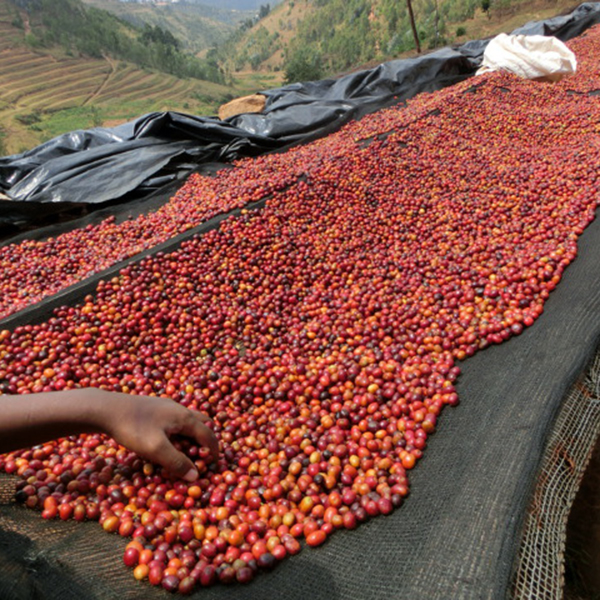 Remera Washing Station is located at a high altitude of 1920m and is born from the pursuit of a subtle climate and deliciousness . The cherries brought in are roughly sorted once and then the floater is removed in the tank. After that, specific gravity is selected in the washing process, and heavy cherry and parchment are selected. In addition, with regard to uniform drying, both the washed and natural agitation and adjustment are performed so that the moisture content of the entire patio is uniform. As a rain countermeasure, Lemera has recently built a 10-step African roof with a huge roof, which has greatly helped improve quality. In this way, an excellent environment for cultivation and farmers and producers aiming to make delicious coffee make a wonderful coffee of Remera.